Epoxy Coated Wire Mesh Description
The epoxy coated wire mesh is primarily woven from steel wire and aluminum wire and then covered with epoxy powder with electrostatic spraying process to make this material immune to corrosion and also acid. Epoxy coated wire mesh is generally used as an assistance layer for purification, rather than galvanized wire mesh. It is ideal because of the stability of the structure and also the economic cost.
Base material
Plain steel wire / aluminum wire / stainless steel wire and epoxy powder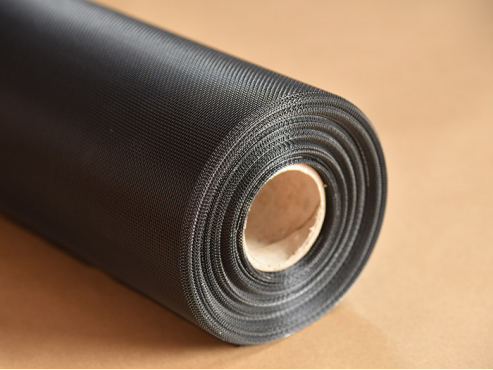 Colors
Dark gray and black epoxy coating as standard, other colors can be customized, such as gray, white etc.
Specification of Epoxy Mesh:
Substrate Mesh Material
Coating Type
Specification
Width(mm)
Length(m)
Application
Q195
Oil Resistance
18*14/0.18
20-1500
≤1000
Hydraulic Filter
Q195
18*14/0.16
20-1500
≤1000
Q195
12*10/0.25
20-1500
≤1000
Q195
22*10/0.16
20-1500
≤1000
5154A
18*14/0.21
20-1500
≤1000
5154A
Weather Resistance
17*15/0.21
20-1500
≤1000
Air Filter
5154A
Weather Resistance
18*15/0.28
20-1500
≤200
Window Screen
SS316
12/0.35
20-1500
≤200
SS316
11/0.7
20-1500
≤200
Specification, material, appearance colors all can be customized. Contact us.
Epoxy coated mesh has such characteristics:
1. Stable internet structure, easy to pleated
2. High compatibility with different sorts of corrosive fluids
3. Resilient under heat and also high pressure
4. Easy to clean and also tidy
5. Good flexibility: folded mesh on a rod of 1mm radius of curvature, no fracture on the surface.
6. Weather corrosion resistance: according to ASTM B117-09 salt spray test standard. Can be tested in the salty environment for 96 hours continuously and the mesh surface remains unchanged. Suitable for air filters used in harsh environments and outdoor environments.
7. Oil immersion corrosion resistance: It can be tested under different temperatures and times by various brands of hydraulic oil media around the world, and the coating surface remains unchanged. Suitable for high temperature and high pressure special hydraulic filtration products.
8. Strong adhesion: It can pass H grade pencil test, 1kg/50cm impact test, scratch test, and fatigue resistance test.
9. The edge line will not fall off after slitting and cutting.
Epoxy coated wire mesh application
Epoxy coated wire mesh is commonly used in different filtration applications as an auxiliary layer for hydraulic filters and air filters, producing a certain good pleating effect, providing maximum air flow and peak filtration.
When epoxy coated wire mesh is used as an epoxy coated filter wire mesh, it is used as a hydraulic filter as well as an air filtration auxiliary layer to support filter paper or non-woven fabric for filtering drill bits debris and rubber impurities from the system to ensure certain hydraulic system as well as air filtration system cleanliness.
Epoxy coated wire mesh is also used as an insect-proof line for windows and doors. It is widely used to resist insects such as flies, insects and bed bugs in hotels, buildings and homes.
Product packaging and manufacturing
Epoxy coated wire mesh can be directly rolled into rolls or cut into strips. We work with consumers to provide custom-cut, installation-ready epoxy-coated meshes to help simplify the building and construction process.
Fabrication Procedures
60 sets of fast weaving looms are set up on-site to ensure the quality of raw mesh with high precision of opening, straightness of warp and weft lines, mesh defect control and size control; epoxy powder has different brands, we usually choose industrial oil-resistant powder and civil corrosion resistant powder. The two sets of epoxy coating equipment adopt advanced manufacturing process, the coating performance is effectively improved and the coating capacity reaches 15,000 square meters/day.
As a professional manufacturer in China, Jiushen has been specializing in providing customized Epoxy coated wire mesh. For more information about Epoxy coated wire mesh, welcome to contact us to get the best solution to epoxy mesh. We will be happy to help you out!