PRODUCTION CAPACITY
Jiushen production workshop covers an area of 15,000 square meters, and the logistics covers an area of 5,000 square meters. There are more than 100 equipment and auxiliary facilities suitable for weaving products of various specifications. Some processes operate 24 hours.
Jiushen established an assembly line layout of "raw material warehouse--inspection--warping--weaving--inspection--coating--slitting--packaging--delivery" on site, and items are fixed and positioned with high operation efficiency, which is currently stands a leading position in wire mesh industry.
Jiushen adopts the operation mode of order driving and master plan scheduling, executes order BOM and controls various wastes. According to the market demand, in order to reduce inventory for customers and achieve JIT supply, Jiushen establishes a certain amount of safety inventory and implements first-in first-out logistics management system.
Jiushen implements TPM management, has a professional management department with 15 electromechanical and process technicians with many years of experience. While stabilizing factory high-efficiency operation, according to customer's application scenarios, Jiushen is capable of research and design new process, new material, and new equipment to meet the future market demand.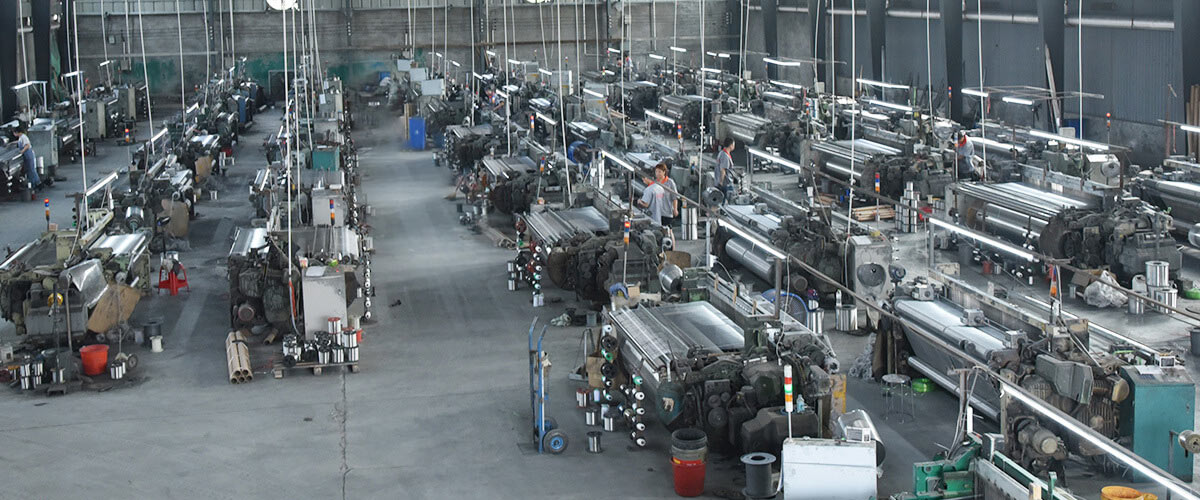 Facility
Quantity
(set)
Weaving Pattern
Width(mm)
Length
(m)
Number of Beating-up
(times/min)
Capacity
(m/month/set)
Remarks
r-GJ looms
6
Plain weave/Selvaged
2210
1-600
180-220
16000(14 mesh)


FK-GJ looms
4
Plain weave/Selvaged
2210
1-600
180-220
16000(14 mesh)


731PT looms
25
Plain Weave/Selvaged
2300
1-600
180
13000(14 mesh)


731KF looms
12
Plain weave/Selvaged
2600
1-600
180
13000(14 mesh)


731TK looms
2
Plain weave/Selvaged
2800
1-600
180
13000(14 mesh)


1300D looms
20
Plain weave/Twill weave
914-1300
1-200
80
600(100 mesh)
Weldable splicing
1300B looms
20
Plain weave/Twill weave
914-1300
1-200
80
600(100 mesh)
Weldable splicing
2600G Warper
4
/
100-2600
15000
CNC variable speed
Match weaving looms' capacity


2800G Warper
2
/
100-2800
15000
CNC variable speed
Match weaving looms' capacity


Flat & Inspection Bench
2
/
100-2600
1000
/
Match weaving looms' capacity


2000G Slitting Machine
1
/
2-2000
1000
Variable speed
Match weaving looms' capacity


500G Splicing Machine
1
/
50-500
1000
Variable speed
/


1300G Coating line
1
/
100-1300
/
Variable speed
400 thousand