In this article, we introduce epoxy, PVC, and Teflon coating services for wire mesh products.
Epoxy Coated Wire Mesh:
Epoxy mesh is made by plain steel wire mesh, Aluminum alloy mesh or SS wire mesh with electrostatic powder spraying, mainly used as support layer of hydraulic and air filters as well as doors, windows guarding.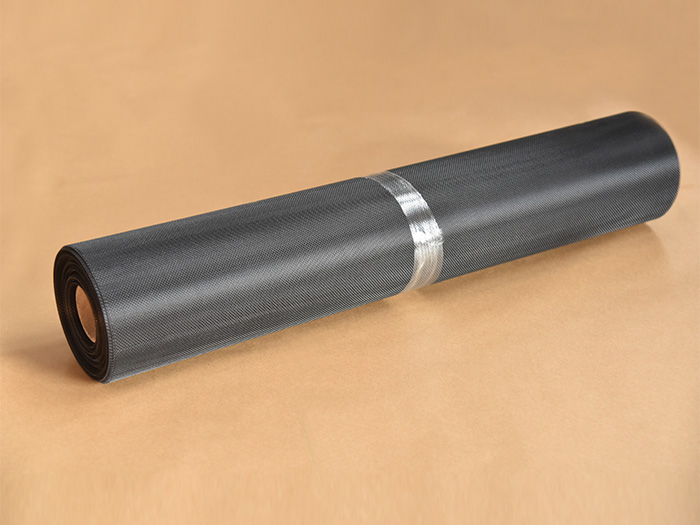 Epoxy coated mesh
Characteristics of Epoxy Coated Wire Mesh
Epoxy coated wire mesh with fixed interweaving points, vertical warp and weft, uniform mesh, not easy to loosen and deform, reinforced filter paper support, easy to pleat and form, uniform coating thickness and color.
At Jiushen, we can offer a wide range of high quality, cost effective epoxy coated wire mesh products that are designed to cope with challenging environments. Each coating is precision coated to cover the entire surface area of our wire mesh sheets for strength and durability.
Our epoxy coated products have been specially formulated to withstand harsh conditions such as
● Corrosion
● Solvents
● Salts, acids and alkalies
● Moisture / humidity
● UV exposure
Applications of Epoxy Coated Wire Mesh
Epoxy coated wire mesh is commonly used in different filtration applications as a supporting layer for hydraulic and air filters, producing some good pleating effects and providing maximum airflow and peak filtration.
When used as an epoxy coated pleated filter mesh, epoxy coated wire mesh is used as a supporting layer for hydraulic filters and air filtration to support filter paper or non-woven fabrics for filtering debris and rubber impurities from the system to ensure the cleaning of the hydraulic system as well as the air filtration system.
Epoxy coated wire mesh is also used as insect-proof wire for doors and windows. Widely used in hotels, buildings and homes to resist insects such as flies, insects and bed bugs.
PVC Coated Wire Mesh:
PVC coating adds extra value to this wire panel. Customized colors available, the PVC coating creates a clean look for your application while the coating prevents cuts and other injuries.
Characteristics of PVC Coated Wire Mesh:
1. Strong & light with a high ware value
2. Clean appearance will not flake or chip
3. Corrosion-resistant
4. Water-resistant
Common Applications for PVC Coated Wire Mesh:
● Industrial security
● Animal cages and enclosures
● Kennel flooring
● Lobster traps
● Oyster trays
● Tennis courts
● Home and garden fencing
● Marine fencing
● Freeway fencing
● Machine guards
PTFE (Teflon) Coated Wire Mesh:
PTFE coating provide additional strength to the mesh as well as protecting the mesh from contaminants during use. PTFE coated products enhance the performance of filtration systems, particularly for industrial cartridge filters.
Characteristics of PTFE coating:
PTFE (Teflon) coating can be done perfectly to fully coat the strands of the woven mesh without filling in the apertures. Most woven mesh used for this method of filtration is either 100 or 200 mesh size, manufactured from stainless steel wire threads.
When surface materials are coated with PTFE, water droplets rest on the surface, without actually wetting to any significant extent. PTFE coatings are used to increase the hydrophobic performance of the filter, by means of permitting fuels to pass through but inhibit the passage of water in coalescer based systems. In such systems the PTFE coated mesh can be easily cleaned during maintenance and service operations. It has been found that PTFE coated mesh filters can help to reduce operating costs and improve product quality.
Industrial Applications of PTFE Coated Wire Mesh:
1. Chemicals, Resins and Solvents
2. Hydraulic Oils
3. Petroleum Refining
4. Power Generation
5. Pulp and Paper Industry
6. Fuel Lines
Our team uses rigorous quality control practices to continually innovate our wire mesh manufacturing processes. We can work with our customers to provide custom cut, installation ready coated meshes that help streamline the construction schedule. In addition, we have the ability to handle virtually any production capacity, using lean manufacturing methods to reduce costs and eliminate waste. We welcome your any inquiry!